Stacey Dales Leaves ESPN
Posted by davefowkes on 02/16/2009
This story is only important to those who closely follow the all important sideline reporters!
Stacey Dales has quit ESPN because…wait for it… they would not fly her first class! No more coach for Stacey! Literally!
http://www.newsok.com/stacey-dales-espn-fail-to-make-a-deal/article/3345434?custom_click=lead_story_title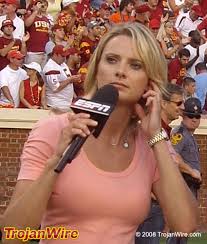 For those that don't know here, Stacey Dales is a former WNBA player that has been on the sideline for college football and basketball games the past few years. While she has not quite reached Erin Andrews status yet, she was certainly popular on campus.
Now in reality there may be some issue about equal treatment issues with claims that others get sent first class. But it certainly does come across poorly to be quitting in these economic times because she wont fly coach anymore!
This leaves a huge hole in the world of sideline reporting. And you can be sure that boys on college campuses across the country eagerly away to see who will be hired to replace her!
One Response to "Stacey Dales Leaves ESPN"
02/17/2009 at 3:35 pm

You said hole.
Cue Beavis and Butthead.